+24
Strawballs
dudeofrude
ian505050
HEHORE
littlecat
reciprocity
dixiethedog
sir digby
Panzerbuilder
yamahamad
0ldcat
SimonAKASimon
bigcarl
pipersam
ellie
Radar
robertcains
tcatcarson
redrob600
jacurutu
BlueZed
SteveCat
stretchie_
Catapulted
28 posters
Page 3 of 3 •

1, 2, 3

First topic message reminder :
Here's mine.
Started off with a 125 like this one (except mine was black) Slow and seriously uncool, but my first pair of wheels so it was cool to me.
Passed my test and moved on to a heady 33bhp in the form of this:-
2 years probation over and the sportsbike world was my oyster! So I chose this:-
Made the mistake of watching Long Way Round once to often, so this joined the stable for a while:-
Which was replaced with a newer version:-
But I didn't like the colour so it got converted to this:-
Still love the beemer, fantastic all round bike, but when this came up for sale I couldn't resist:-
Job permitting, intending to keep both for another summer of fun......!
What's
your
story?

Catapulted

7Bronze





Status

:


Number of posts

: 77


Registration date :

2008-11-06




---
Yeah, my Thundercat days are nearly over - they are very good bikes.

Stevecat2 never idled properly in spite of best attempts by 3 mechanics. It finally worn me down to the point I wasn't enjoying my rides anymore and frankly I lost trust in it. The workshop manager at Mr Yamaha seemed confidant he knew what the problem was, but I'm not being a desperate gambler anymore - plonk the money down, this is the one I'll hit the jackpot this time.

I've p/ex'd the 'Cat and I do hope they fix the problem and not just dump it into the trade. It is a cracking bike, goes like stink and is in fairly decent nick, brand new rear tyre and shock - It'll make someone very happy, just for me the flame has gone out and I'm not sure I'll get it back.

SteveCat

Admin2





Number of posts

: 5104


Registration date :

2008-11-06




Hope you enjoy your Tracer as much as i enjoy my MT 09. So much fun as you don't have to wait till the power band kicks in, its just flys from the off. Still got my T/cat though,just slowly doing the bits that have been neglected on a daily bike

bingowatts

5Bronze





Status

:


Number of posts

: 49


Registration date :

2012-10-15




Ah well I suppose all good things come to an end. I know ow I won't have a cat forever. It's an amazing bike but it's just getting too dated now. If only they'd carried it on and gave it fuel injection, digital display, ride modes, abs, traction control, led lights etc etc then it'd be flawless but alas it is what it is. I still love it though
Yeah, that's played on my mind too as well as the emmission tax Boris wants to impose to enter London, it's not due till 2020 but if he has his way it'll be in by next year. Next thing I'll know I'll have to pay it every time I leave home

SteveCat

Admin2





Status

:


Number of posts

: 5104


Humour

: You've gotta be joking


Registration date :

2008-11-06




Guess I'll have to update my list
from 6 years ago as well now
So here's the
update
:
The Z750 was great and I thought I'd keep it for good but then I came across this Yamaha MT-09 in late 2013 and had to order it. Finally picked it up in March 2014 and it's been a great bike from the start. Done nearly 8000km up until end of September when it went into winter storage and now I can't wait for all the snow to melt to get it out again...
Maybe this will be the one I keep for good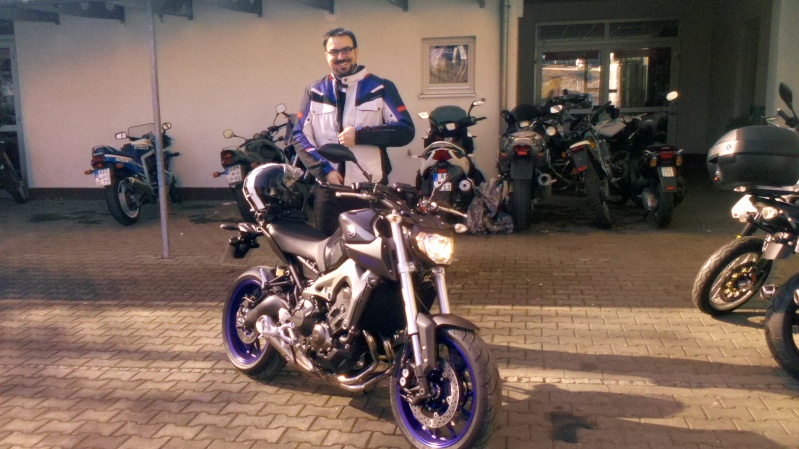 BlueZed

Event-Organiser





Status

:


Number of posts

: 317


Hobbies

: Space cadet


Humour

: NEIN!


Registration date :

2008-11-07




thought I'd blow the cobwebs off this thread, might be fun for those who haven't seen it and join in.
I'm currently doing a sort of my biking life in pictures and many more words on social media, has been suggested that I post the tales here too.
Oh I see I haven't got my list up-to-date ... MT-09 Tracer in Spain

SteveCat

Admin2





Status

:


Number of posts

: 5104


Humour

: You've gotta be joking


Registration date :

2008-11-06




Page 3 of 3 •

1, 2, 3

---
Permissions in this forum:
You
cannot
reply to topics in this forum