Hi and Welcome,
I have been very remiss in saying hello to all our New Members.
Sorry for that.
Hello and welcome one and all - and well done/congratulations to those just passed tests - good luck to those undergoing training and awaiting examination
As you will have noticed we are a very social and sociable group.
Please enjoy ALL the site has to offer, please take advantage of it , and I hope you can join us on a ride/meet out sometime.
All the very best
0ldcat (Tel)
And WELCOME from me too!
It just seems that there have been quite a few new members recently, so I thought I'd investigate......
Tis the time for lies, damn lies and statistics so here's the facts.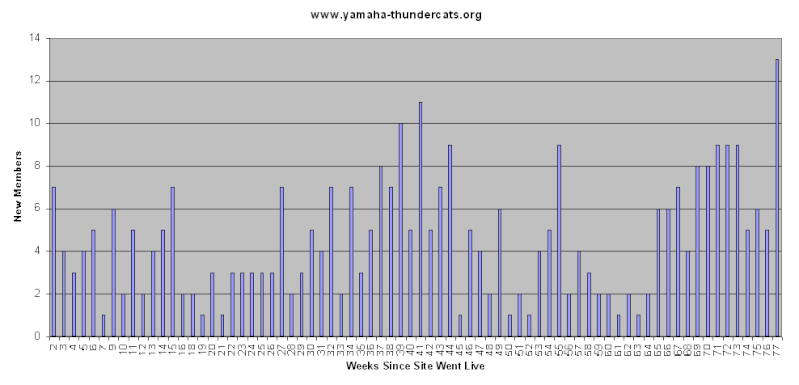 Yep, looks like we've had a flurry recently. Which is nice and coincides with the improving weather.
Hope you stay with us and we see you on one of the ride-outs sometime.
Ride safe,
Chris
__________________________________
I'm not just a 'cat, I'm an IAMs  'cat.  

greencat

Admin2





Status

:


Number of posts

: 1558


Hobbies

: Computers/Landscape/Travel/Sleep


Humour

: Lots of things make me laugh!


Registration date :

2008-11-08




Dont ya just hate clever clogs......

Similar topics
---
Permissions in this forum:
You
cannot
reply to topics in this forum