Back story
I bought my '03 Thundercat with around 12,000 miles in '08 or '09 as an upgrade from my GPZ500S. The Thundercat was my first proper big bike. I used it for my short commute in all weathers, including snow.  After a while my old man decided to sit his bike test in retirement so I gave it to him while I did a DIY renovation on a house and started a family.
In early 2020 (pre-COVID) I'd arranged with my dad to get her back on the road and made space in the garage for her. He'd had two new hips so wasn't using the bike. Since the kids were a bit older I wanted to get it back over this side of the country and enjoy the fact I live close to some fantastic scenery and great roads. My dad took her for an MoT in March 2020 and it cut out 100 yards from the MoT Garage, not surprising after it sat in his garage for 5 years or so. He left it with them to get it running then promptly dropped dead unexpectedly. In May I went to collect the bike after it had the carbs done, new plugs and a general check over. It was a bit surreal on the 90 mile trip back. I had all my own gear on but my boots had been stored in a shed for 5 years and a small mammal had made them home so I was wearing my dad's boots. I was in convoy with the Mrs and kids in the car so had plenty time to contemplate having big boots to fill and taking some comfort in the happiness I knew he had from borrowing my pride and joy.
So about the bike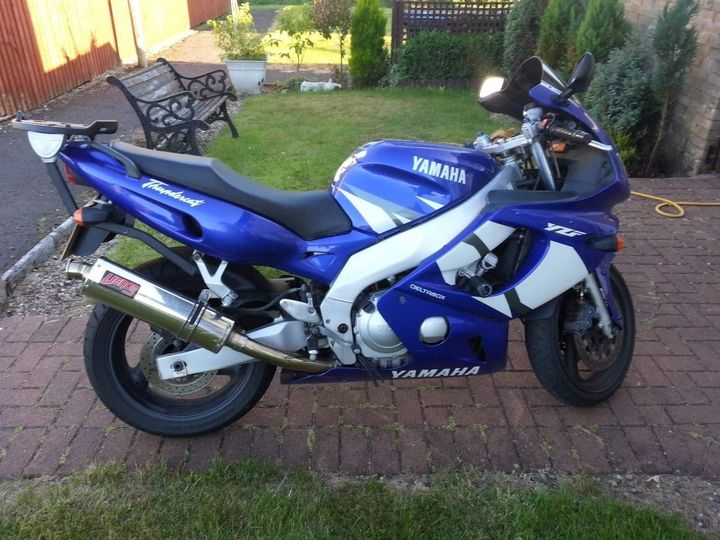 She's got a double bubble screen, laser can, RG crash bungs, Scotoiller, Yacugar monoshock, braided hoses and Givi top box rack.
She's in fairly good condition but I'll be giving her as thorough a restore as time, expertise and cashflow allows.
No doubt I'll be asking a few questions about sourcing parts and stripping/rebuilding soon enough.
Operation Pretty Pussy Part I. 29 Jan 20.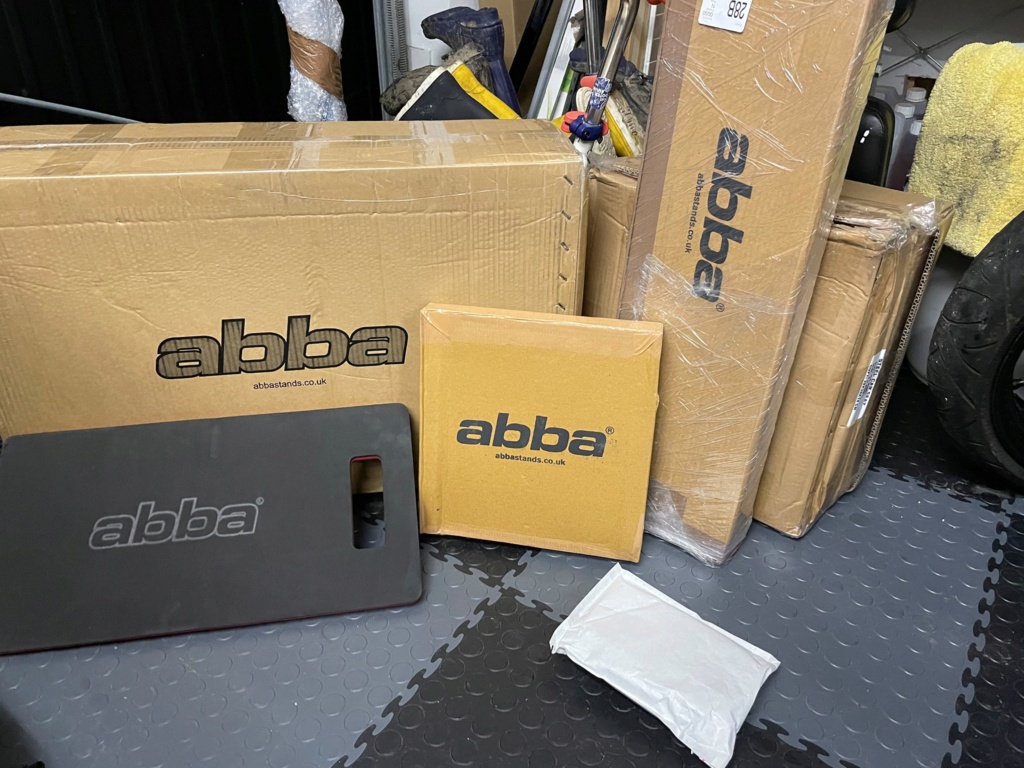 First things first - treated myself to a new ABBA Skylift. It allows me to put the bike at whatever height I want for the job in hand and, possibly most importantly, makes the bike easily mobile as it can be wheeled across the floor so it's never in the way. Even my wife can easily manoeuvre it around on the Skylift.  
The bike had been buried in my garage and hadn't been cleaned in years as it wasn't being used. Before I did anything I wanted to get the crap off the paint so I wouldn't scratch the bodywork while handling it.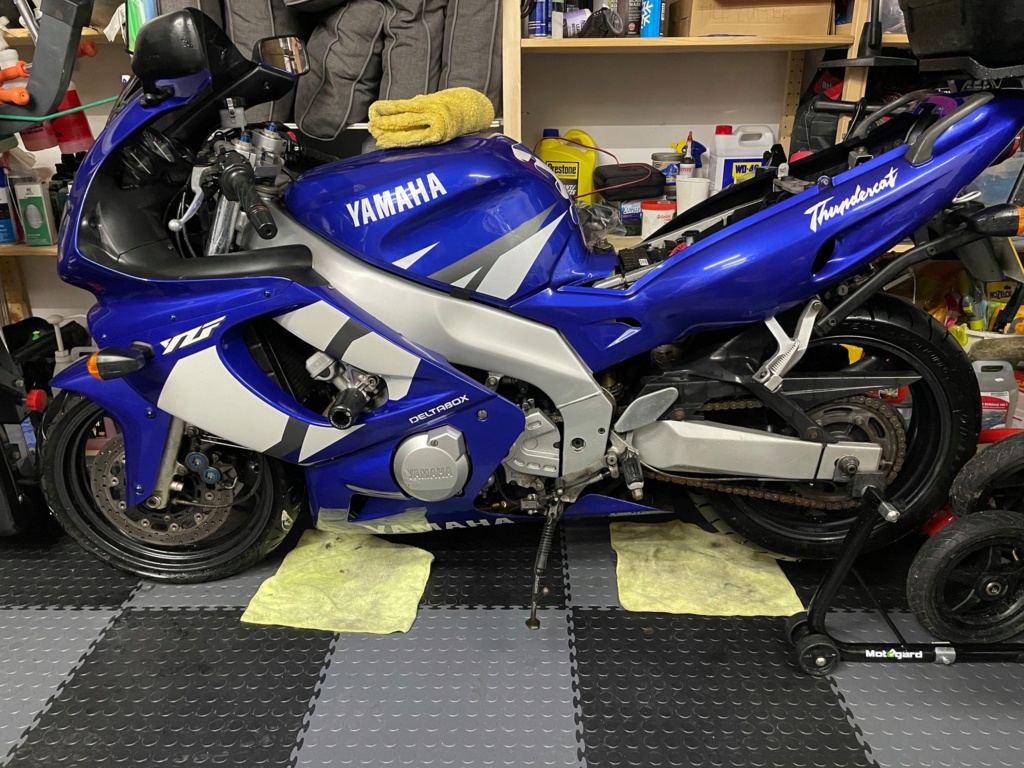 I wheeled it outside for a quick clean and gave it the once over for a visual check. I noticed a fork was leaking oil so that justifies a refurb - a little research suggests Brook Suspension is worth a shout for this work.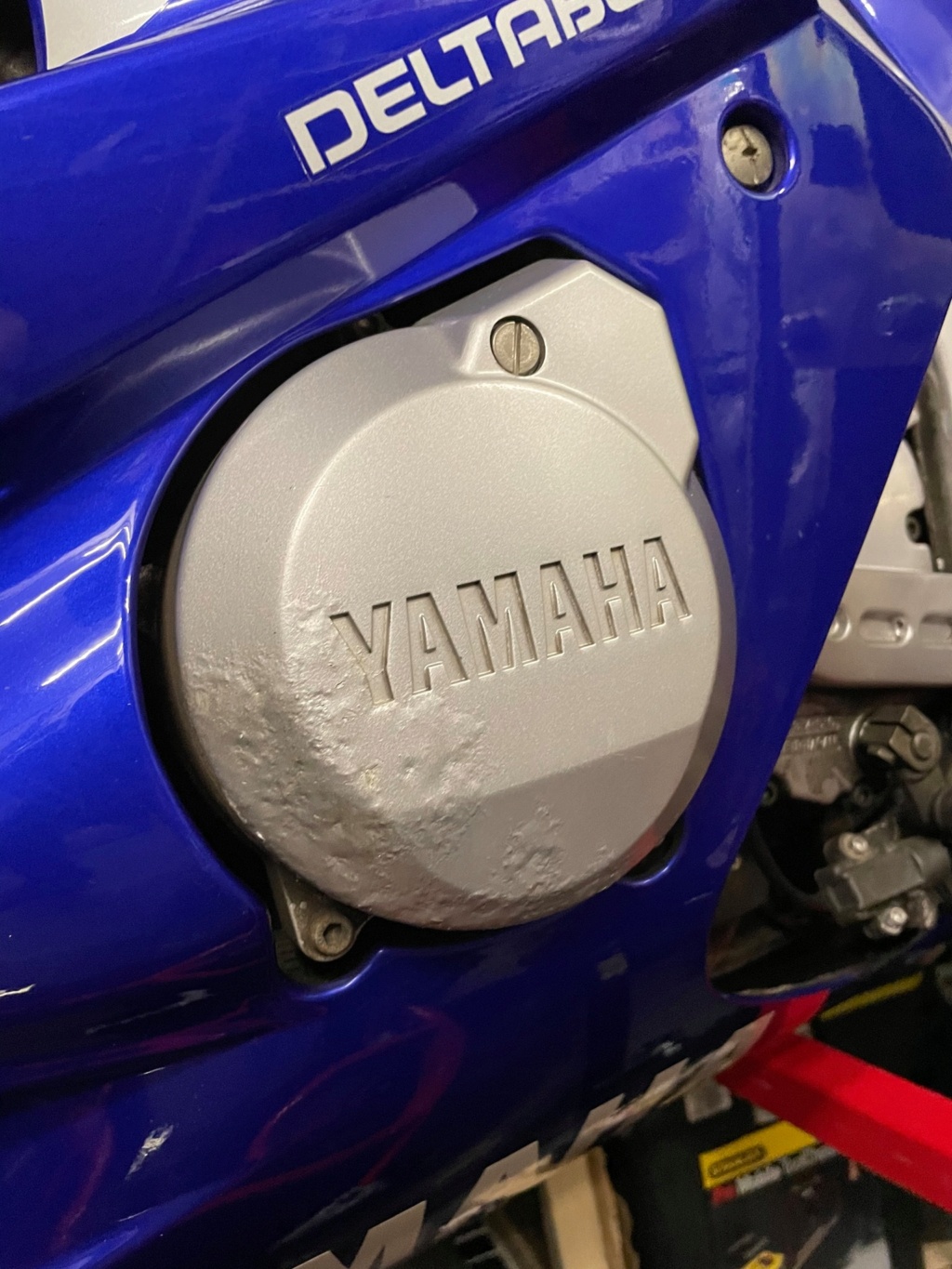 There's also a fairly horrific looking stator cover so I need a plan for that.
Operation Pretty Pussy Part II. 7 Feb 2020.
Things just stepped up a gear. Front end is off.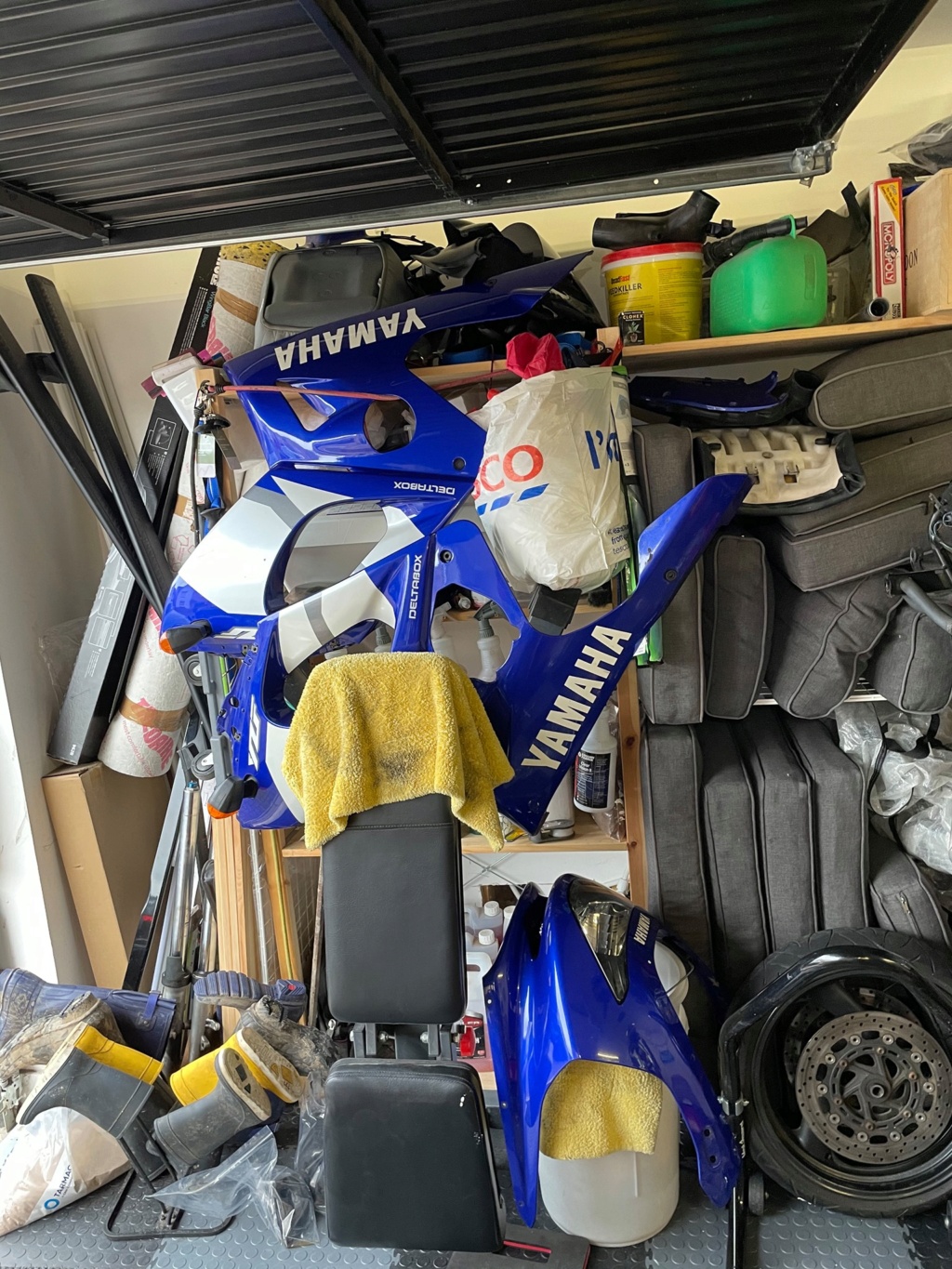 Bodywork set aside for more cleaning, correction and protection.
Forks removed to go for refurb, heavier oil, possibly progressive springs, possibly powder coating.
Front calipers removed to be cleaned before going off for full refurb including media blasting and re-coating.
We'll see how the rest of it cleans up before deciding how to proceed.
Minor disaster was puddle of oil. Yacugar monoshock with less than 1500 miles appears to be gubbed but to be fair it's sat for the last 5 years so not sure I can complain.
I'm hoping someone in UK can sort so it doesn't have to go to Holland and take months due to Brexit.
ABBA Skylift is still awesome.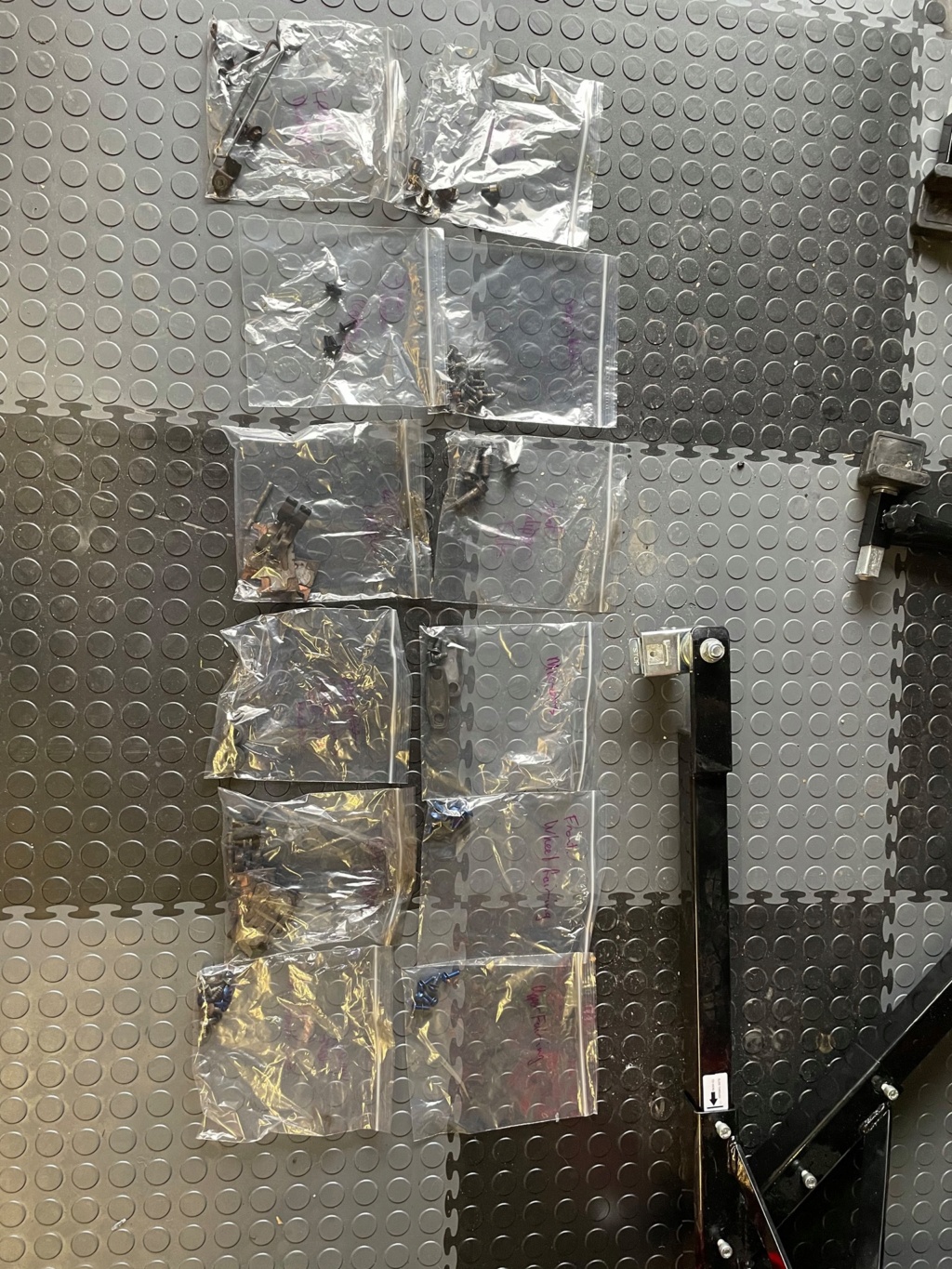 Parts bagged up and labelled. Will sort into sections in bigger bags for safekeeping. Not sure if I go wild on pro-bolt or not. Let's see what the bill is for the necessary stuff first.
A bit of lunch then onto the rear. I left my Haynes manual at my old man's so I'm flying a bit blind. How difficult can it be? Removing the real wheel was an utter b*****d of a job. I suspect the spindle should have a bit more grease on it to facilitate removal but I got there in the end. My dad had the swingarm off and had painted it himself but I'm not sure this is supposed to fall out the swingarm
Any advice on how worried I should be: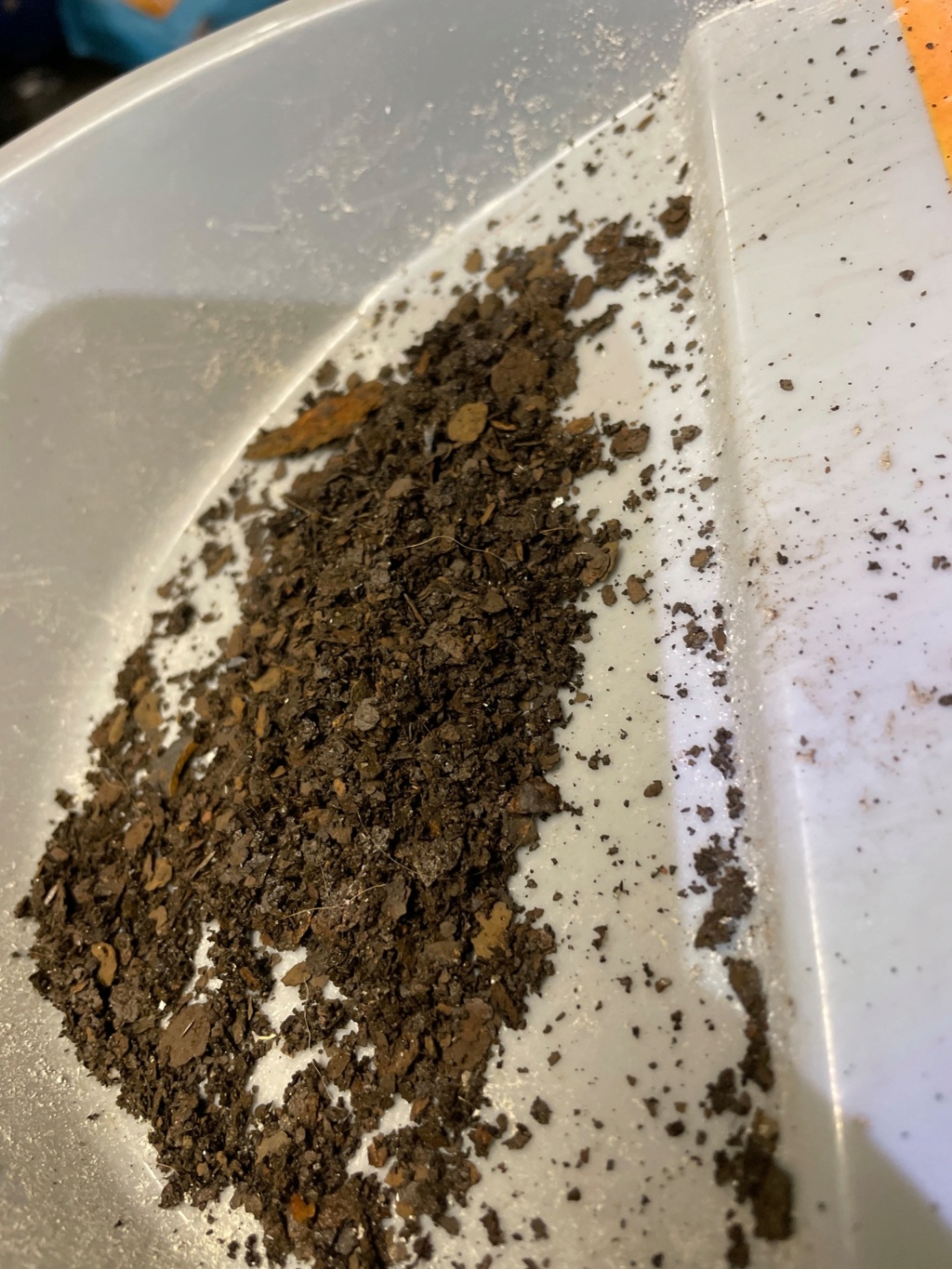 I think the swingarm will need to come off but I'll need to re-mount the Skylift as it's currently on the swingarm mounts.
I removed the leaky shock, dog bones, torsion bar, caliper, etc.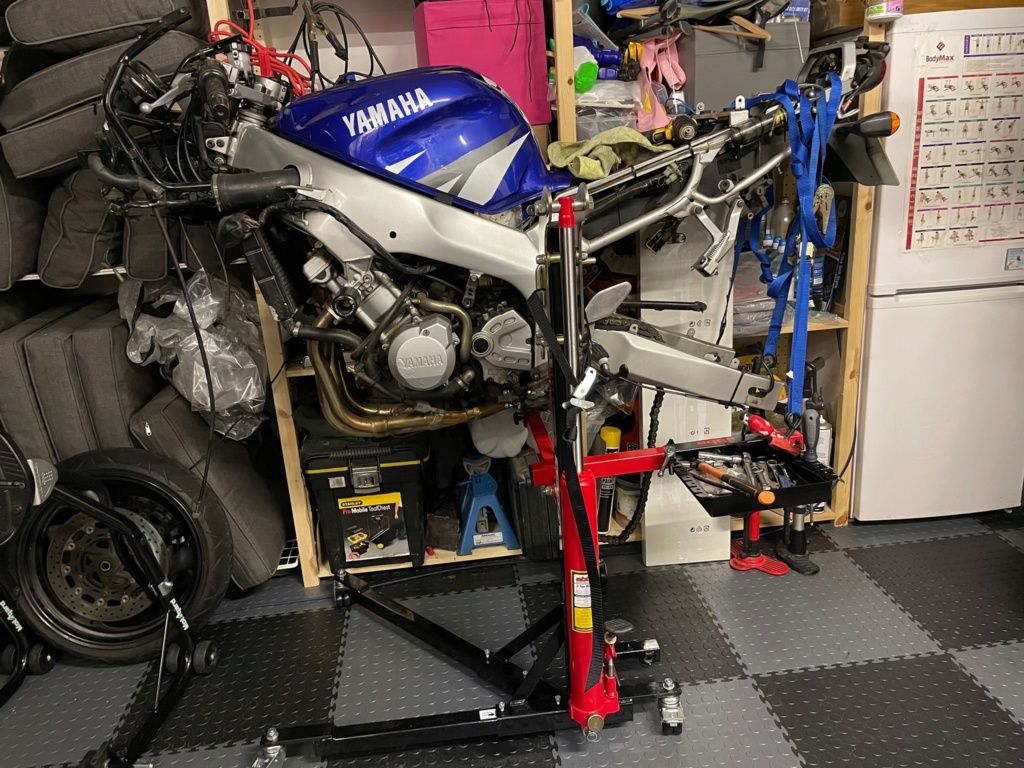 Me and my old man used to tinker with cars and pushbikes from a very early age and one unexpected thing is that this had really made me feel close to him again. Some of my best memories are in the driveway or garage tinkering with engines and such. When I'm working on the bike I feel like he's standing there with me about to pass a spanner or suggest I need to stop and think about what I'm doing before I hurt myself or break something. It's really making this something special for me which I didn't expect.
Earlier today I spoke to Brook Suspension to see if they can service the Yacugar monoshock. This obviously meant I came off the phone having ordered a new YSS monoshock with uprated spring and have a spare, knackered Yacugar unit.
That's me pretty much up to speed. I'm off to the garage to re-mount the bike on the Skylift and continue dismantling the rear end.
I should also highlight this thread from Nigel which is the main reason I joined this forum:
https://www.yamaha-thundercats.org/t6758p75-some-tlc-for-thundercat
I don't think my own expertise and budget will stretch to this level of refurb but I'll aim to get as close as I can. I keep seeing bits which will look lovely re-plated and I'm trying hard not to spend silly money at Pro-Bolt.

Nanoman

1Bronze





Status

:


Number of posts

: 8


Registration date :

2021-02-07




sjones4437 likes this post
Hello Nanoman
Really nice read that, I hope it all goes well for you with the restoration, I get the impression nothing is going to stop you until its 100% completed. Not much I can help with the rebuild questions as I'm pretty new to it all at the moment, but there are plenty of people on here who can
. The Thundercat is my first big bike too and loving every minute of it so I may end up watching your posts and getting some ideas for myself.
Keep us updated mate.

sjones4437

3Bronze





Status

:


Number of posts

: 27


Registration date :

2020-09-07




So the Skylift is re-mounted using the specific swingarm removal mounts. You just remove a foot peg bolt and replace it with the fitting kit.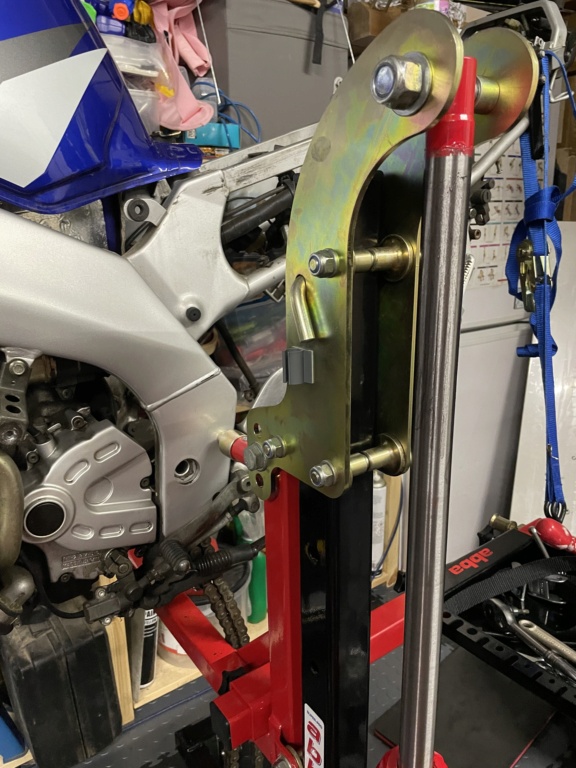 I had to put the monoshock back on and refit the rear wheel temporarily to facilitate removal of the Skylift. I also set a trolley Jack under the engine while the lift was off - this mean removing the radiator mount and exhaust.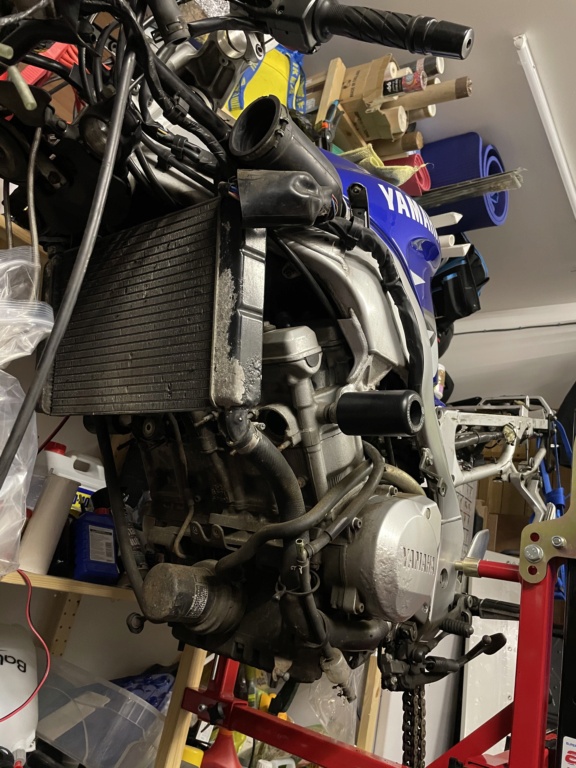 It was fairly easy to remount it and get it up in the air. Wheel was quickly back off and relay arm too. I also got the under tray off after a bit of fiddling.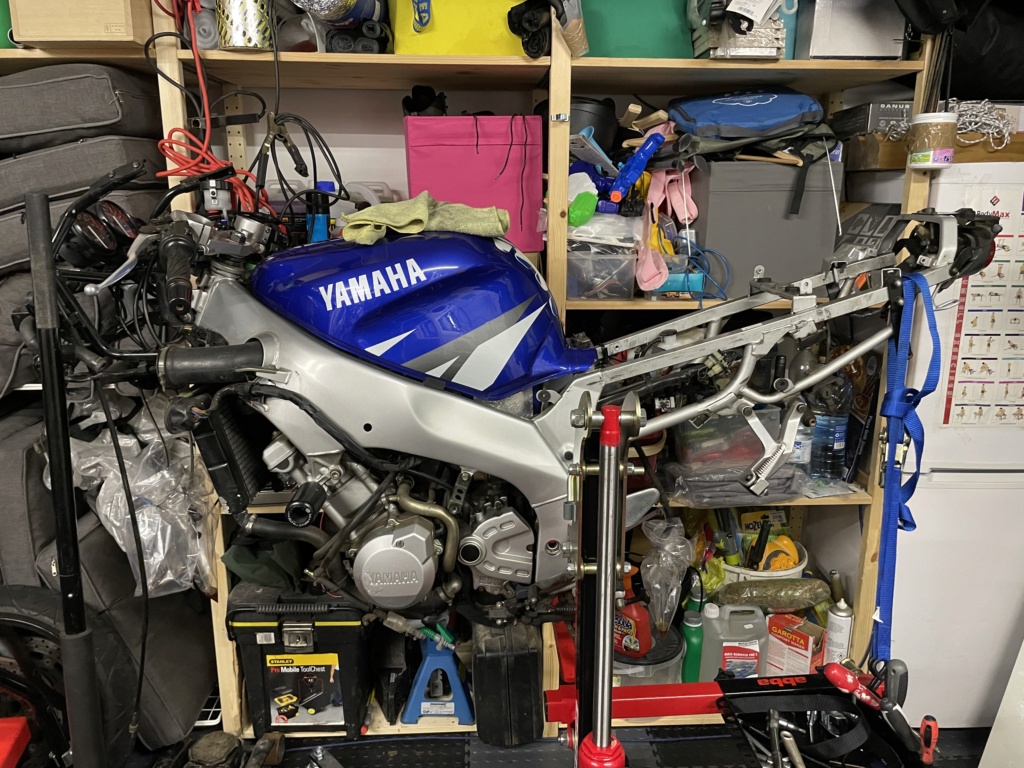 I've got a few more bits to remove them it's sending off forks and calipers, cleaning everything and working out what's getting powder coat or paint, can I stretch to re-plating any parts, then hopefully getting things back together before the days and weeks turn into months or years!

Nanoman

1Bronze





Status

:


Number of posts

: 8


Registration date :

2021-02-07




@Nanoman

wrote:There's also a fairly horrific looking stator cover so I need a plan for that.
Alloy corrosion under the paint and probably looks worse than it is. Sand down and repaint.
@Nanoman

wrote:...I'm not sure this is supposed to fall out the swingarm.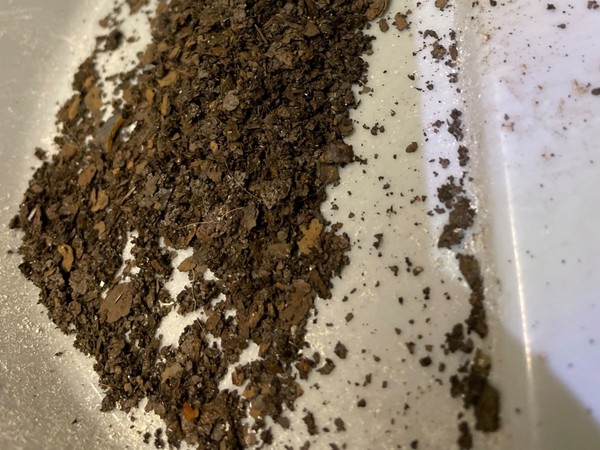 Flakes of rust? Make a homemade scraper of some sort to give the inside a good clean and then spray some cavity wax inside to protect it. I'll be treating my swingarm to some Dynax S50 which I bought for my 30 year old Toyota Celica, but there are similar treatments out there.
@Nanoman

wrote:...ordered a new YSS monoshock with uprated spring...
Guess it's too late to mention this, but you could have fitted the R6 shock with a Lewis Fabrication adapter.
Silver Frame Paint.
After a search through the forum, here are two paint codes that are a close match for the Yamaha silver.


BMW Titan Silver - 354.

Aprilia Argento Magnum Metallic - APR 4R.

When trying to decide between powder coating and paint, remember that paint can be sanded and repainted at home if it gets damaged, but powder coating will have to be stripped off completely and reapplied.
Spare Parts.
YAMBITS - Thundercat.

Tee-Forty

3Silver





Status

:


Number of posts

: 244


Registration date :

2013-06-21




Thanks Tee-Forty.

I've got a plentiful supply of Bilt Hamber products including s50 which I expect the swingarm was treated with previously. My dad liked to restore vintage tractors and I got him on the Bilt Hamber bus a long time ago.

I did think about r6 shock and even swingarm but i'll keep it fairly close to OEM for the most part i think.

I reckon my bill on Yambits could be £200, assuming swingarm and relay arm bearings are still good. My dad wasn't the type to take a swingarm off, paint it, and not replace the bearings so we'll see.

Tonights plan is to tape up the zorst outlets and clean it up. Then next will be drop the oil & filter, filter outlet, etc. That allows me to get the rest of the engine covers off and away for paint/powder. I was going to remove the filter and covers before cleaning but I think, since the engine is staying in place, the best thing to do is clean it all up before removing oil filter and engine covers to prevent water getting anywhere it shouldn't be.

Interesting comments RE: paint v's powder. I know how they're applied but I'm not certain why you'd choose one over the other. The default just seems to be powder on things like frames, swingarms and engine covers. I might fire in past my friendly local bodyshop with the bits for a chat and see what they say.

Nanoman

1Bronze





Status

:


Number of posts

: 8


Registration date :

2021-02-07




@Nanoman

wrote:...paint v's powder. I know how they're applied but I'm not certain why you'd choose one over the other.
Don't quote me on this, but I don't think powder coating can be matched to a specific colour like paint can, you will have to pick the nearest shade and hope for the best. It is also thicker than paint, so you might lose the detail in certain areas, around logo's and lettering etc.

Tee-Forty

3Silver





Status

:


Number of posts

: 244


Registration date :

2013-06-21




Damaged paint can be touched up, powder will need it doing again.
Paint will flex with the metal, powder will crack over time.
Both coverings will chip if hit hard enough.
As Tee-Forty said paint can be matched to a specific colour the powder can't.
Done both coverings now, will stick with paint as powder if it's cracked will hold water and rust the metal underneath. Been there.
Best of luck with the rebuild, finished my second one and put the B&Q coloured Cat on the road in June 2020.

past-it

6Silver





Status

:


Number of posts

: 357


Registration date :

2011-11-22




Part III
Radiator is off along with the fuel tank and the air box.
I set about the engine with a selection of brushes, micro fibre cloth and Meguiars Super Degreaser at 4:1. The rear of the engine and frame came up pretty well but the front of the engine was disappointing.
I could try hours or scrubbing with various chemicals but I'm not sure that'll do much. I could spend hours of time with a dremel which will probably work but, ultimately, I think taking it out and dropping it off at the local aqua blasters will take less time and result in a far better finish.
I was going to drop off a few of the components e.g fuel pump, water pump, etc anyway so I might as well give them the whole thing.
I've dropped the oil so there's about 8 bolts left, a couple more pipes and a few electric connectors to remove and it should drop out.
A few pics: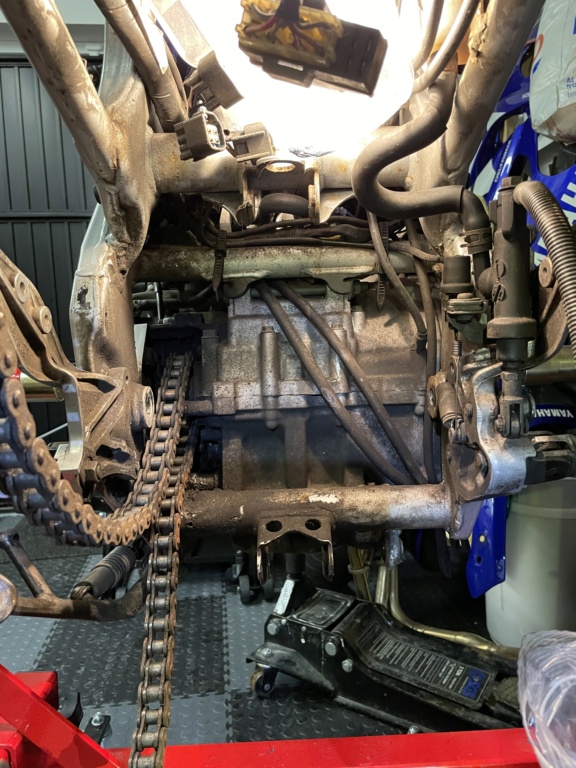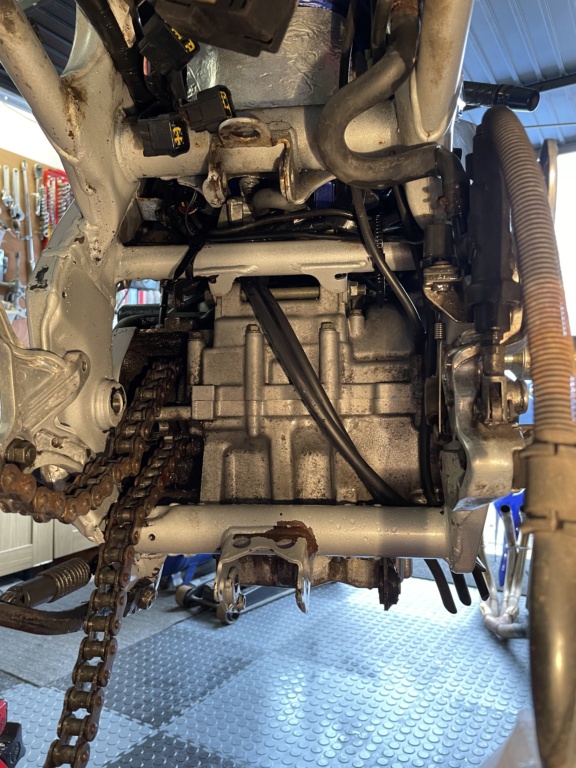 Nanoman

1Bronze





Status

:


Number of posts

: 8


Registration date :

2021-02-07




Operation Pretty Pussy Part IV
So there's been some decent progress since the last update.
I left the engine at the soda blasting place and they've spent a bit of time doing what they can with it. I didn't really have expectations that the finish would be anything to write home about and was content with the fact it would be an excellent base to paint over, if nothing else.
When I dropped the engine off the guy showed me the difference between vapour blasting and soda blasting. He spent 3-4 minutes vapour blasting the thermostat housing and the results were astonishing. It strips metal but doesn't damage other components.
Unfortunately if the vapour blasting media gets in the engine it's catastrophic so you need to completely dismantle the engine and get the major components done separately. I don't have the expertise or time to do that myself and my local technician tells me the engines are bomb proof so it's not likely to achieve anything.
The guy sent me a couple of pics so I added Simoniz matt silver engine enamel to my paint order along with VHT black for the radiator and aluminium silver for the subframe.
There's an order of Bilt Hamber goodies on the way to treat the surface rust on subframe and some primer before I paint it. None of it will be visible but I want to use the opportunity to tidy it up while I can.
In other news I've spent a fair bit of time further stripping down components and documenting what went where so I've got a better chance of putting it back together again.
As I've been dismantling things I've been sorting the bits which are getting re-plated in a selection of zinc coatings, mainly yellow zinc, with some major components black zinc and a few pieces probably going with clear zinc.
It's a much harder decision than you'd expect! I'm not sure how it will all come up at the platers so I might have to rethink once I've discussed it with them.
I dropped off the relay arm and swingarm at my local garage to get some bearings removed. I got two out but there's another six which are more difficult to remove and I don't want to make an **** of it.
Calipers and forks are with my friendly local bike technician for stripping. I'll collect the caliper bodies and fork legs then get them off for powdercoat along with the engine covers, swingarm and relay arm. I'll add the engine cover fasteners and a couple of metal oil pipes to the relevant pile to go off for re-plating then I'll get on with what I can until bits start coming back from the relevant specialists.
Some of the jobs I can get on with:
Subframe repainting
Engine block painting
Cleaning and protecting all engine cooling pipework
Cleaning and protecting all plastics e.g. airboxes, huggers, brake fluid reservoirs, coolant tanks, cockpit
Cleaning and protecting all bodywork
I've ordered a few more bits including bleed nipples, gaskets for engine covers, etc in anticipation of things going back together.

Nanoman

1Bronze





Status

:


Number of posts

: 8


Registration date :

2021-02-07




Tee-Forty likes this post
@Nanoman

wrote:...the results were astonishing.
That looks really nice, much better than I thought it would be.

Tee-Forty

3Silver





Status

:


Number of posts

: 244


Registration date :

2013-06-21




Yeah, it's nice. I like the matt finish. It's tempting to whip the Autosol out and see how that brass comes up though.

Nanoman

1Bronze





Status

:


Number of posts

: 8


Registration date :

2021-02-07




Hi Nanoman

Looks like you're doing a great job there.
I'm sure your dad would very much approve too.

Thanks for sharing and look forward to seeing more updates.

Cheers
Rosco



Rosco

Admin2





Status

:


Number of posts

: 6632


Humour

: Oh Go On Then


Registration date :

2008-11-06





---
Permissions in this forum:
You
cannot
reply to topics in this forum