Hi.

Probably getting a 'cat next week but haven't had much time to think about panniers / sports racks / luggage solutions etc.
Wondered if I could get some suggestions from people who have taken the 600R on tour. The bulky things are a tent / sleeping bag - planning on travelling between campsites. When I hit the cities I guess it would be handy to be able to unclip panniers for ease and prevent theft.

It would be really helpfull to hear what youv'e found to work well with this bike.

Many thanks!

thunder242

2Bronze





Status

:


Number of posts

: 12


Registration date :

2010-05-02




others will chime in with more detail I'm sure but here's what I've been looking at:

- don't know anything about Ventura except that they do make a rack for the t'cat.

- Givi make mounting plates for both Monolock and Monokey top-boxes but no pannier solutions. I've heard rumours of certain (universal or R6) mounts being "adaptable" but they're probably just rumours.

- a company called Nonfango make panniers and mounts for the t'cat but they're pricey, Italian and they don't have a UK importer/distributor.

- if you're a poncy southerner like me, the autojumble at George Whites in Swindon has a box full of Oxford FirstTime panniers for a tenner a set - if they've got any left!

Chris!

Guest

Guest





I use soft throw-overs and a tank-bag, but have never carried camping gear...I tend to B&B
In France. I didn't have the tank bag then and tended to use a rook-sack
They will hold a case of beer! On a serious note, check out the prtection for my paintwork
In Italy
Great bike for touring the Thundercat

Radar

Admin2





Status

:


Number of posts

: 2034


Registration date :

2009-02-15




Thanks R2 and esp. Radar for the pics! ... Looks like maybe a sports rack will hold my tent and sleeping bag - and go with the soft panniers for travels guides and couple pieces of clothing maybe...

thunder242

2Bronze





Status

:


Number of posts

: 12


Registration date :

2010-05-02




I had a set of throwover panniers (which i never used and sold to DBD!) - i now have Ventura stuff - FANTASTIC slides over a frame and clips on with 2 clips onto the frame - no bungees and still plenty of room for sleeping bags and tent too if you want. You pole up where you want to , undo the 2 clips and lift it off whilst others around you are removing nets/bungees etc and unlike the oxford throwovers i had no need to start removing the seat etc - each to their own but its worth its weight in gold.
[img]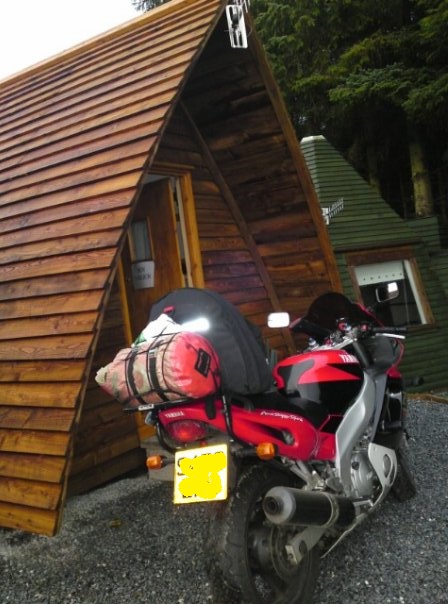 [/img]
[img]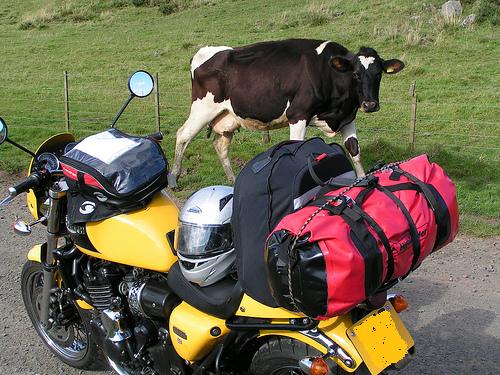 [/img]
put Neil's on too as it shows the size of the bag better (and i like the expression on the cow's face :O) ) - that was a weeks worth of stuff each we had in the ventura bags and still room to spare if you really want to (and i'm not sure why you would ever need to particularly!) you can zip both those ventura bags together back to back and get 2 on one bike ........ hmm, actually why have a dog and bark yourself - i'll have to remember that next time we go anywhere
Suzie
Last edited by Ezzy's Mum! on Sun May 16 2010, 22:21; edited 1 time in total (Reason for editing : dodgy typing!!)

Ezzy's Mum!

6Gold





Status

:


Number of posts

: 2284


Hobbies

: You could say i'm in the film industry


Humour

: I didn't expect the Spanish inquisition


Registration date :

2008-11-06




I have gone the Givi route, like Ventura it is not a cheap solution.
Have added a rack on top of the topbox which can be good for some of your camping gear. When touring two-up I put my Roll Bag on it.

SteveCat

Admin2





Status

:


Number of posts

: 5096


Humour

: You've gotta be joking


Registration date :

2008-11-06




Steve,

Monolock or Monokey? As far as I can see, Givi do mountings for both at about the same price, but the Monokey boxes are about double the price, and I'm wondering whether it's really worth an extra £100!

Chris

Guest

Guest





Yes it is. Nothing to do with the key/lock but the base plate and box.
All of the plates have two 'hooks' into which the box clips. The (monolock) plates intended for smaller bikes do not have an additional support with the locking mechanism. Apparently in days gone by all plates were like this, but boxes were falling off the more powerful beasts so the safety mod was made. The Monokey has more substantial mounting points.
I do not think you can get a Givi monolock plate for the 'Cat. I am sure other vendors can supply a Universal fitting - personally I wouldn't chance it.

SteveCat

Admin2





Status

:


Number of posts

: 5096


Humour

: You've gotta be joking


Registration date :

2008-11-06




Hiya,
I have Yamaha luggage which is bloomin great and just clips on and off, has straps to carry it too. They were from a Yammy dealer.
Hope you get sorted!
Many thanks for all that folks.

Probably best for me to start with the sling overs and go down the bungee cord road to start. I can't see my tent fitting into the other panniers / boxes. The high bar in the ventura set up looks good for tent securing - pricey as you say - but seems useful. Ebay seems to have quite a few boxes givi / ventura but a dirth of brackets. Maybe those boxes were coaxed way from their original owners without permission... but still brackets are the bottom line with getting second hand boxes - getting ones that fit the 'cat that is.

So it's Ventura, Yamaha generics or Givi - or throw overs generic. Thanks - that's useful to know.

Gonna try Radars setup with bungeed tent and see if it holds - and probably come running back to the pro systems in no time!

Cheers.

thunder242

2Bronze





Status

:


Number of posts

: 12


Registration date :

2010-05-02





Similar topics
---
Permissions in this forum:
You
cannot
reply to topics in this forum