Here is a pic of my new bike it needs TLC (a lot ) lol and it will get it work permitting and wife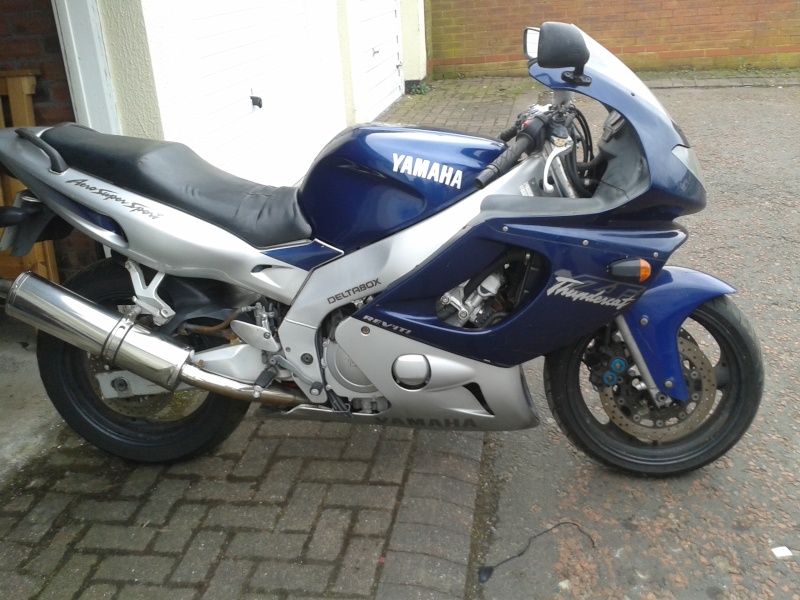 I am planning thanks to my son to respray it in various types of black i.e satin gloss and matt I quite like the idea and will see how it looks
Guthers

Guthers

1Bronze





Status

:


Number of posts

: 9


Hobbies

: motorcycling cars my kids and being told what to do by the Mrs


Humour

: old school spike milligan etc


Registration date :

2014-03-29




Looks in pretty good shape to me for a 96 model.
Having said that, I'm always looking for little things
to do on mine lol. Keep us updated with your progress.
Cheers.

Guest

Guest





Looks in pretty good nick for one of the earliest ones.
Good luck with any transformation(s)

Can't help but notice the wrinkly seat though. How did that happen ?!?

Cheers
Rosco

Rosco

Admin2





Status

:


Number of posts

: 6620


Humour

: Oh Go On Then


Registration date :

2008-11-06




is that thundercat?? WOW

TomCom

4Gold





Status

:


Number of posts

: 1310


Hobbies

: Tattoos, PS4, Airsoft


Humour

: dark humour


Registration date :

2011-08-15




hi guys the wrinkly seat is from the strap my son used to transport the bike from Portsmouth here to sunny Sunderland in his works van bless him. wrinkles now gone thankfully will post more pics when I do stuff to it. I have some neons in the shed which might get used.

Guthers

1Bronze





Status

:


Number of posts

: 9


Hobbies

: motorcycling cars my kids and being told what to do by the Mrs


Humour

: old school spike milligan etc


Registration date :

2014-03-29




Nice looking cat you got there, saying that most of em look the part, even Rosco's  
best of luck with the resto/mod/paint/ whatever it is that needs or you want to do. Like others said if you look hard enough you'll always find something to do on a bike, that's why I ended up buying a project, stops me taking mine a step too far after getting her (in my eyes) perfect!!

Snowcat

6Gold





Status

:


Number of posts

: 2424


Hobbies

: Aluminium & Stainless Steel Sales : Motorcycling, snooker, football, not going out


Humour

: Dry, sarcastic, funny, bit cruel, p*ss taking


Registration date :

2011-09-28




Have found the neons am thinking of lighting up the engine with them am thinking of doing the bodywork tank etc in high gloss black and the hugger chain guard etc in satin and the dashboard surround in carbon wrap and all the decals in matt black with electric blue accents on calipers etc just see where it all takes me. i will do all this on a budget as usual as the wife hates me spending money so cans of paint from pound shop will do a very good job its the preparation that counts i believe. any thought guys ????


Guthers

1Bronze





Status

:


Number of posts

: 9


Hobbies

: motorcycling cars my kids and being told what to do by the Mrs


Humour

: old school spike milligan etc


Registration date :

2014-03-29




I'm holding my breath already


---
Permissions in this forum:
You
cannot
reply to topics in this forum